Online Reflexology for Menopause CPD Course
Offering additional reflexology techniques and lifestyle ideas for supporting women through menopause.
| | | |
| --- | --- | --- |
| Online Reflexology for Menopause | £120 | |
Menopause is a time to Pause and Reframe: Who do you want to be for the next phase of your life and how can you achieve that?
If you would like to know more about the menopause, reflexology research, lifestyle factors for easing menopausal symptoms and focused reflexology techniques aimed at supporting the body through this time of transition - then this online course is for you. This course is suitable for qualified reflexologists.
This online CPD course has 19 pre-recorded modules and practical videos, so you can study at times that suit you. Once you have completed the theory and practised the practical reflexology techniques we then join together for a zoom tutorial. This is a time to check the practical and for you to ask any questions.
NEW – An optional FREE practical day for everyone who would like a day of swapping treatments and sharing ideas. These will be held in SE London, and dates will be set once I am sure we will be able to travel safely and meet in groups. You do not have to attend this day if you don't want too!
Course content includes:
Attitudes to menopause through history
How experiences of menopause vary in different cultures – and what we can learn from this
Physiology of the menopause
Reflexology Research on menopausal symptoms
The effect of stress on the menopause
What we can do as reflexologists to support women through the menopause
Holistic approach including 5 pillars for healthy menopause; Diet, Exercise, Relaxation, Sleep and Purpose
Common conditions such as hot flushes, night sweats, anxiety and mood swings etc
Focused Reflexology Techniques for supporting women going through the perimenopause, menopause and beyond
Course format:
19 PowerPoint Presentations with a recorded voice over, split into easy to access topics. You have access to the course for 18 months and can watch the recordings as often as you want.
PDF download for the PowerPoint slides
Some multiple choice questions as you go along
Videos of the practical reflexology for you to practice at home
PDF download of notes to support the practical work
PDF downloads of other supporting materials
Zoom Practical - A zoom tutorial in small numbers to check practical work and a chance for you to ask questions**
Support throughout the training and afterwards. a
** Zoom meetings are run regularly on Thursday evenings and Saturday mornings throughout the year. Once you have practised the new techniques email admin@sallyearlam.co.uk to ask for upcoming dates
Certificates and Menopause logo
Once you have completed all modules and attended a zoom session** you will receive an electronic Certificate of Completion for this course and the Menopause Reflexology badge for your website. This course equates to 14 AoR CPD points, or 7 hours of CPD training for other organisations.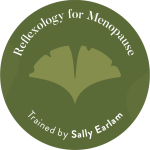 © Copyright 2020 Sally Earlam Reflexology - Website by Sally Earlam, Julian Daley and Toks Adeola. Email: admin@sallyearlam.co.uk