Online Mindful Reflexology CPD Course
Offering additional reflexology techniques and lifestyle ideas for clients living with stress, anxiety and depression.
This course covers the same content as the face to face training and looks at how we as reflexologists can best support clients who are living with stress, anxiety and depression both in terms of offering self-help techniques and adaptations to our reflexology. This course is suitable for qualified reflexologists.
Pre-recorded modules and practical videos that you study at times that suit you and we then join together for a Zoom tutorial when you are ready.
For clients who are living with stress, anxiety and depression life can feel pretty hard and reflexology can be a fantastic support. This course looks at what we can do as reflexologist and introduces a range of self-help techniques and general advice that can be passed on to your clients to help improve their emotional wellbeing. This is accompanied by reflexology techniques that have been developed to help us focus our work on the areas of the body that are involved in both the stress reaction and those that may be affected if there is long term stress.
| | | |
| --- | --- | --- |
| Online Mindful Reflexology Course | £130 | |
All online training courses include a Zoom tutorial which is a time to check practical and for you to ask questions. There is also an option to attend a face-to-face treatment swap day in SE London, these are for those who would prefer some hands-on treatment time, but these are not compulsory. These run every 2 - 3 months on Wednesdays. Please purchase the online course using the button above and you will be kept informed of upcoming days.
Course content includes:
UK statistics and how these relate to reflexology practice.
What we can do as reflexologists including touch, intention, working the feet, the holistic approach and measuring outcomes
An understanding of the anatomy, physiology and possible causes behind stress, anxiety and depression and implications for our reflexology
A variety of self-help techniques to offer to your clients
An introduction to mindfulness and positive psychology for re-programming the brain
Reflexology techniques developed specifically for supporting clients living with stress, anxiety and depression
Course format:
17 PowerPoint Presentations with a recorded voice over, split into easy to access topics
PDF download for the PowerPoint slides
Some multiple choice questions as you go along
Videos of the practical reflexology for you to practice at home
PDF download of notes to support the practical work
PDF downloads of other supporting materials
Zoom Practical - A zoom call in small numbers to check practical work**
Follow up email support
** Zoom meetings are run regularly on Thursday evenings and Saturday mornings throughout the year. Once you have practised the new techniques email admin@sallyearlam.co.uk to ask for upcoming dates
Certificates and Mindful logo
Once you have completed all modules and attended a zoom session** you will receive an electronic Certificate of Completion for this course and the Mindful Reflexology badge for your website. This course equates to 14 AoR CPD points, or 7 hours of CPD training for other organisations.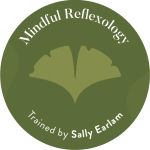 Prerequisites:
Please note that these courses are only for qualified reflexologists whose training included a minimum of 5 days face to face training spent in college/school with your tutor.
Cancellation and Refund Policy
As you will be purchasing digital online courses we can offer a 14 day money back guarantee for a full refund if all following statements apply:
you have requested it within the 14 day cooling off period;
you have not completed (or attempted to complete) more than 3 modules of the course;
you have not downloaded more than one of the supporting pdf documents
The 14 day cooling off period begins from the day you made the purchase and all refunds will be made within 28 days.
Once you request a refund access to the course will be removed and you will not be able to receive a certificate for the course.
If you change your mind after 14 days:
You are eligible for a refund if you cancel your order as long as you have not completed (or attempted to complete) any of the course and any tests. However, a £20 admin fee will be applied. i.e. You will receive the full course fee minus £20.
If there are any issues with the online course please email admin@sallyearlam.co.uk to see if this can be rectified.
© Copyright 2020 Sally Earlam Reflexology - Website by Sally Earlam, Julian Daley and Toks Adeola. Email: admin@sallyearlam.co.uk