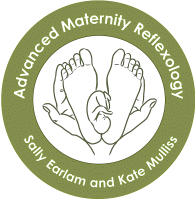 Online Advanced Maternity Reflexology CPD Course
Sally Earlam and Kate Mulliss
This course covers the same content as the face to face training and is ONLY available to reflexologists who have already completed my 2 day Maternity Reflexology course. If you have not completed my Maternity Reflexology course this is available as online training
The AoR, in partnership with Napier University, is delighted to now be able to offer suitably qualified reflexologists the opportunity to partake in Advanced Reflexology Modules for those who wish to take their learning to a more advanced level. These modules have been credit rated by Napier University and deemed to be at Level 8 on the Scottish Credit and Qualifications Framework (SCQF). This equates to an English and Welsh Level 5 qualification, i.e. foundation degree level.
AoR Advanced Reflexology Module – University credit rating - 10 credits at SCQF level 8 - when Maternity Reflexology and Advanced Maternity Reflexology have been completed
By completing both the Maternity Reflexology and Advanced Maternity Reflexology courses, you will gain comprehensive practical skills and advanced theoretical knowledge. It will cover relevant and current information with regard to maternity related issues from initial conception, through the 9 months of pregnancy and post-partum. It will closely examine the physiological changes that occur in pregnancy, the importance of appropriate lifestyle advice for pregnant women and choices open to pregnant women about the birthing process. Proficiency in a variety of techniques and tailoring the treatment to benefit the individual clients will be examined and developed.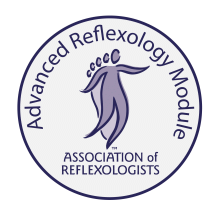 By the end of the Maternity Reflexology and Advanced Maternity Reflexology courses you will be able to:
Review and be able to describe the physiological and emotional changes that occur during pregnancy from early conception through the post-natal period.
Describe and be able to distinguish the role of conventional health care providers and the potential role of the reflexologist in supporting women during their pregnancy.
Examine and consider when it is appropriate, and when it may prudent not to perform reflexology on pregnant clients.
Adapt and modify reflexology treatments/techniques as necessary and identify when to refer onto the healthcare professional.
To confidently perform a range of reflexology techniques for a variety of common pregnancy symptoms and conditions.
Examine and review current scientific research in the area of pregnancy and reflexology provision.
Advanced Maternity Reflexology will cover:
What makes good research
Using Outcome measures in your practice
Details of current research in Maternity Reflexology
Marketing and building a marketing plan
Anatomy and Physiology related to Maternity
Building treatment plans
Teaching the birth partner hand reflexology for labour
Recap of some of the main practical techniques taught on day 1
New opening moves and additional reflexology techniques suitable for Maternity clients
Practical assessment
To gain the Advanced Maternity Reflexology qualification you will also need to complete pre-course reading, a 500 word assignment outlining the maternity services available in their particular local area, and 4 case studies with 3 treatments on each client (We recommend 2 case studies after Maternity Reflexology and 2 case studies including outcome measures after the Advanced Maternity Reflexology course). There will also be a practical assessment over Zoom.
On successful completion you will receive a certificate with the University credit rating.
Course format:
11 PowerPoint Presentations with a recorded voice over, split into easy to access topics
Pdf download for the PowerPoint slides
Some multiple choice questions as you go along
Videos of the practical reflexology for you to practice at home
Pdf download of notes to support the practical work
Pdf downloads of other supporting materials
Zoom Practical - A 1.5 hour zoom call in small numbers to check practical work** and give you the chance to ask any questions
Follow up - email support
Marking of case studies and feedback (case studies are optional though)
** Zoom meetings are run regularly on Thursday evenings and Saturday afternoons throughout the year. Once you have practised the new techniques email admin@sallyearlam.co.uk to ask for upcoming dates
| | | |
| --- | --- | --- |
| Advanced Maternity Reflexology | £250 | |
Certificates
Once you have completed all modules, attended a zoom assessment and submitted all of your case studies and assignments you will receive an electronic Certificate of Completion from the Association of Reflexologists with University Credit Rating. This course equates to 28 AoR CPD points, or 14 hours of CPD training for other organisations.

© Copyright 2020 Sally Earlam Reflexology - Website by Sally Earlam, Julian Daley and Toks Adeola. Email: admin@sallyearlam.co.uk