Reflexology Treatments
I'm afraid that I'm not able to take on any new clients at the moment.

What is Reflexology?
Reflexology is a non-invasive and relaxing complementary therapy that aims to optimise both physical and emotional health. It works by massaging and stimulating specific points (usually on the feet but sometimes on the hands, face and ears) called reflex points. These points correspond to different parts of the body. Reflexologists work holistically to treat the whole person not just the symptoms and I will therefore be able to provide general lifestyle advice and support to you.
Benefits of Reflexology
Receiving Reflexology treatments can offer so many benefits to individual clients including optimising wellbeing. Wellbeing is so much more than just the absence of illness as it also encompasses an improved frame of mind, positive emotions, improved relationships and increased resilience. In simple terms, with improved wellbeing you are able to view life more positively and allows you to make the most out of your life.
With so many stressors in modern living it can sometimes be hard to achieve balance and happiness. We should not underestimate the toll that stress can play in our lives both physically and emotionally; long terms stress can affect numerous systems in the body and is though to be responsible for many illnesses. It is therefore essential to look for ways of reducing your stress and Reflexology is one such way!
Reflexology can help improve well being, it can help you relax and sleep better which will in turn can make you feel better - anecdotally many people find that many other symptoms improve as well and the only way to know if reflexology will help you is to try it!.
About me
I have been a qualified Nurse for 34 years, a qualified Reflexologist for 20 years and a qualified teacher in reflexology for 13 years. I have a wealth of experience of working with all ages of clients.
Also trained in:
Reflexology supporting conception
Maternity reflexology and Traditional Chinese Medicine pregnancy reflexology
Mindful Reflexology; supporting stress, anxiety and depression
Reflexology Lymph Drainage
Breaking the Barriers of Pain with Reflexology
Aromareflex
Advanced Reflexology Techniques
5 Element Reflexology
Special interest in menopause and peri-menopause
Hot Stone Reflexology
Plus attended a large number of other seminars and international conferences
Current work:
I work part time for the Association of Reflexologist (a national Professional Association for Reflexologists) as their Maternity Specialist and Head of Education and Training.
Awarded Fellow membership of the Association of Reflexologist in 2014
I Teach advanced courses for qualified reflexologists
A previous Board member of the Reflexology in Europe Network
An elected member of the Profession Specific Board for the CNHC (our voluntary regulator) for Reflexology
I am pleased to say this still leaves me time to continue to see clients from my practice in Sydenham. I offer standard reflexology or Hot Stone Reflexology which offers all the benefits of reflexology as well as incorporating hot basalt stones during the treatment which further aids a deep sense of relaxation and is perfect for the ultimate de-stress.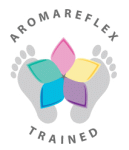 Prices
Foot Reflexology (60 minutes appointment) = £50
Hand Reflexology (60 minutes appointment) = £50
Hot Stone Reflexology (60 minutes appointment, includes hot stones on feet and legs for even more relaxation!) = £55
Aromareflex Reflexology (70 minutes appointment, includes essential oils personally blended for you and massaged into feet and legs) = £55
Privacy notice
As I need to hold and use client data in order to provide you with the best possible treatment options, support and advice, I will require new clients to sign a Privacy Notice to comply with GDPR (the new data protection law). The Privacy Notice tells you what personal information I hold and why, and what your rights are. Please click here if you wish to to view my full Privacy Notice
If you are interested in trying Reflexology or would like to discuss how Reflexology could help you please contact me: