Hot Stone Reflexology CPD Course
Please note I will not be resuming face to face training until social distancing measures have eased and I am certain that training will be able to go ahead.
Hot Stone Reflexology cannot be offered as Online Training for insurance purposes.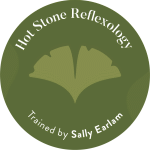 This is a practical based day, where you learn to incorporate hot stones into your own sequence. The hot stones are an additional tool that are loved by clients and take relaxation to another level; hot stones have been shown to lower cortisol levels and help to support the parasympathetic nervous system to help the body reverse the stress reaction.
Hot Stone massage originated in India and China and has been around for centuries; ancient civilizations believed that hot stones cleansed the body and relaxed the heart, grounding the soul and soothing the mind. As the name implies, the treatment involves using smooth stones which are heated and are used to massage the lower leg and to carry out the reflexology, saving your hands.
This a wonderful addition to your treatment and gives you something extra to offer your clients - a great marketing tool for making yourself stand out as offering something different.
On the training day we use the new Vulisini hot stone heating bag - easy to use for all therapists including mobile therapists. I do also show you the set up for the traditional water bath.
What is Hot Stone Reflexology?
This is where hot stones are either incorporated into a reflexology treatment or are used for the whole treatment with no thumb walking at all; using large stones to warm and massage the legs and feet, and smaller stones to work reflex points and more specific areas. The treatment is extremely relaxing for the client and also feels wonderful for your hands, the heat will do the work rather than your fingers and thumbs.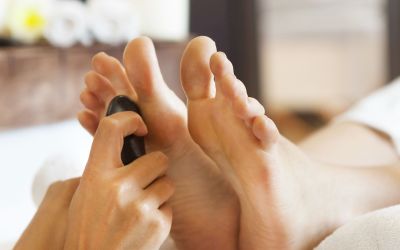 Traditionally stones have been heated in a water heater (similar to a slow cooker) - this means the treatment has not been suitable for mobile therapists. However I now work with the Vulsini hot stone bags which does not need water and just needs to be plugged in. This means hot stones can be easily used as a mobile therapist and makes the use of hot stones much easier to incorporate into your everyday Reflexology.
Cool stones may also be used if there are any muscle injuries or inflammation such as varicose veins.
I do not actually sell the Vulsini bags but I will be able to give you a 10% discount code so you can order direct from Vulsini if you wish to.
As an introduction, here is a short video from the AoR showing part of the hot stone sequence.
Course overview
In the morning there will be a brief introduction of the theory and practice of Hot Stone therapy and a demonstration as to how they can be used to enhance your Reflexology treatments. This will be backed up by a training manual. Hot stones can either be used for opening and closing moves on all clients to make your Reflexology treatments stand out from other therapists. Alternatively you can offer it as a whole treatment, with hot stones used throughout the treatment for clients wishing to take relaxation to another level.
The rest of the day will be practical, so be prepared to feel that you have had a day at a Spa by the end of it. There will be a demonstration on how Hot stones can be used to enhance your Reflexology treatments. You will then carry out treatments on each other, and as classes are a maximum of 8 you are guaranteed plenty of individual tuition.
You do not need to learn a new sequence for this course, it is about learning how to incorporate these techniques into your current routines.
For the London courses I will provide everything you need for the day, including a vegetarian soup lunch and refreshments.
Prerequisites:
Please note that these courses are for those already holding a diploma level 3 or above in reflexology.
London Courses - cancelled for 2020
No course dates currently planned

Course details
Each course is limited to 8 places to guarantee you will receive plenty of individual attention in a warm, friendly and supportive environment.
The course runs from 10am-5pm, in Sydenham, SE London. Sydenham is easy to reach, it has 3 stations, an overground station and plenty of free parking in the street, see contacts and travel for more information.
Certificates
You will receive a certificate for this course for 14 CPD points for AoR members, or 7 hours of CPD training for other organisations. You will also receive instructions on how to add this badge to your own website.