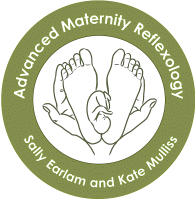 AoR Advanced Maternity Reflexology Module
A two day course for those that have already completed the two day Maternity Reflexology Course
Sally Earlam and Kate Mulliss
Please note I will not be resuming face to face training until social distancing measures have eased and I am certain that training will be able to go ahead.This course is available as Online Training.
Online course
We are now offering the Advanced Maternity Reflexology CPD course as online training. If you are interested then please go to the Online Advanced Maternity Reflexology page.
The AoR, in partnership with Napier University, is delighted to now be able to offer suitably qualified reflexologists the opportunity to partake in Advanced Reflexology Modules for those who wish to take their learning to a more advanced level. These modules have been credit rated by Napier University and deemed to be at Level 8 on the Scottish Credit and Qualifications Framework (SCQF). This equates to an English and Welsh Level 5 qualification, i.e. foundation degree level.
AoR Advanced Reflexology Module – University credit rating - 10 credits at SCQF level 8 - when Part 1 and 2 have been completed
By completing both the Maternity Reflexology and Advanced Maternity Reflexology courses, you will gain comprehensive practical skills and advanced theoretical knowledge. It will cover relevant and current information with regard to maternity related issues from initial conception, through the 9 months of pregnancy and post-partum. It will closely examine the physiological changes that occur in pregnancy, the importance of appropriate lifestyle advice for pregnant women and choices open to pregnant women about the birthing process. Proficiency in a variety of techniques and tailoring the treatment to benefit the individual clients will be examined and developed.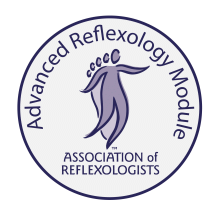 By the end of the Maternity Reflexology and Advanced Maternity Reflexology courses you will be able to:
Review and be able to describe the physiological and emotional changes that occur during pregnancy from early conception through the post-natal period.
Describe and be able to distinguish the role of conventional health care providers and the potential role of the reflexologist in supporting women during their pregnancy.
Examine and consider when it is appropriate, and when it may prudent not to perform reflexology on pregnant clients.
Adapt and modify reflexology treatments/techniques as necessary and identify when to refer onto the healthcare professional.
To confidently perform a range of reflexology techniques for a variety of common pregnancy symptoms and conditions.
Examine and review current scientific research in the area of pregnancy and reflexology provision.
Advanced Maternity Reflexology will cover:
What makes good research
Using Outcome measures in your practice
Details of current research in Maternity Reflexology
Marketing and building a marketing plan
Anatomy and Physiology related to Maternity
Building treatment plans
Teaching the birth partner hand reflexology for labour
Recap of some of the main practical techniques taught on day 1
New opening moves and additional reflexology techniques suitable for Maternity clients
Practical assessment
To gain the Advanced Maternity Reflexology qualification you will also need to complete pre-course reading, a 500 word assignment outlining the maternity services available in their particular local area, and 4 case studies with 3 treatments on each client (We recommend 2 case studies after Maternity Reflexology and 2 case studies including outcome measures after the Advanced Maternity Reflexology course). There will also be a practical assessment on the last day.
On successful completion you will receive a certificate with the University credit rating.
Prerequisites:
Please note that this course is for those already holding a diploma level 3 or above in reflexology AND have completed the Maternity Reflexology course. I am afraid this Advanced Module is only available to those that have completed Sally Earlams 2 day Maternity course, and not for other Maternity courses.
London Courses - cancelled until further notice, this will be reviewed in September 2021

I will provide everything you need, including a vegetarian soup lunch and refreshments at the London venue.

Advanced Maternity Reflexology Dates: No dates, this will be reviewed in July 2021
No course dates currently planned

Course details
Each course is limited to a small group to guarantee you will receive plenty of individual attention in a warm, friendly and supportive environment.
The course runs from 10am-5pm each day, in Sydenham, SE London. Sydenham is easy to reach, it has 3 stations, an overground station and plenty of free parking in the street, see contacts and travel for more information.

Certificates
Once you have completed both parts of the course you will receive the university certificate. Each day is worth 14 CPD points for AoR members, or 7 hours of CPD training for other organisations. You will also receive instructions on how to add these badges to your own website.